Due to climate change, it is necessary to find new ways to travel and explore Europe in a sustainable way. Exploring neighbouring countries for new experiences and discovering their hidden treasures, focusing on agritourism as an alternative to mass tourism: this is the aim of the Erasmus+ Treasure Hunt project. The main objectives of the project are:
To train agriculture entrepreneurs on developing skills and competences to innovate their business by connecting agriculture and tourism.
To enhance the possibility for young immigrants and female entrepreneurs to get involved in agrotourism.
To promote innovation capacity in the agriculture sector as a whole thanks to the link with another relevant sector for EU economy, Tourism.
To make agro tourism an attractive business for young entrepreneurs in combination with other land based businesses.
To increase the interest for language learning among potential rural entrepreneurs by using interdisciplinary teaching methods, thus learning English and vocational skills in the same time.
To build a strong network for the exchange of good practices in agro tourism.
Since its beginning in 2022, the project has achieved important goals thanks to the cooperation between the consortium partner organisations:
A Framework of a training for young Europeans in agritourism has been developed with the aim of listing and prioritising the key competences that agricultural entrepreneurs should possess in order to be able to develop new tourism offers based on agriculture and experiences in the agricultural world.
The second Project Result is a Handbook for agritourism that provides information on training modules offering innovative solutions for linking agriculture and tourism, open educational resources, case studies, role models and practical advice for planning, implementation, monitoring and evaluation.
A Training package on agritourism, a set of guidelines and methodologies on how to deliver training, but also a collection of tools, topics and skills on which the training will focus, using theoretical lectures, group workshops, practical experiences and personal coaching.
The next goal will be the implementation of an English for agritourism self-study guide, an online training tool providing a basic knowledge of the English language for all those working in the sector.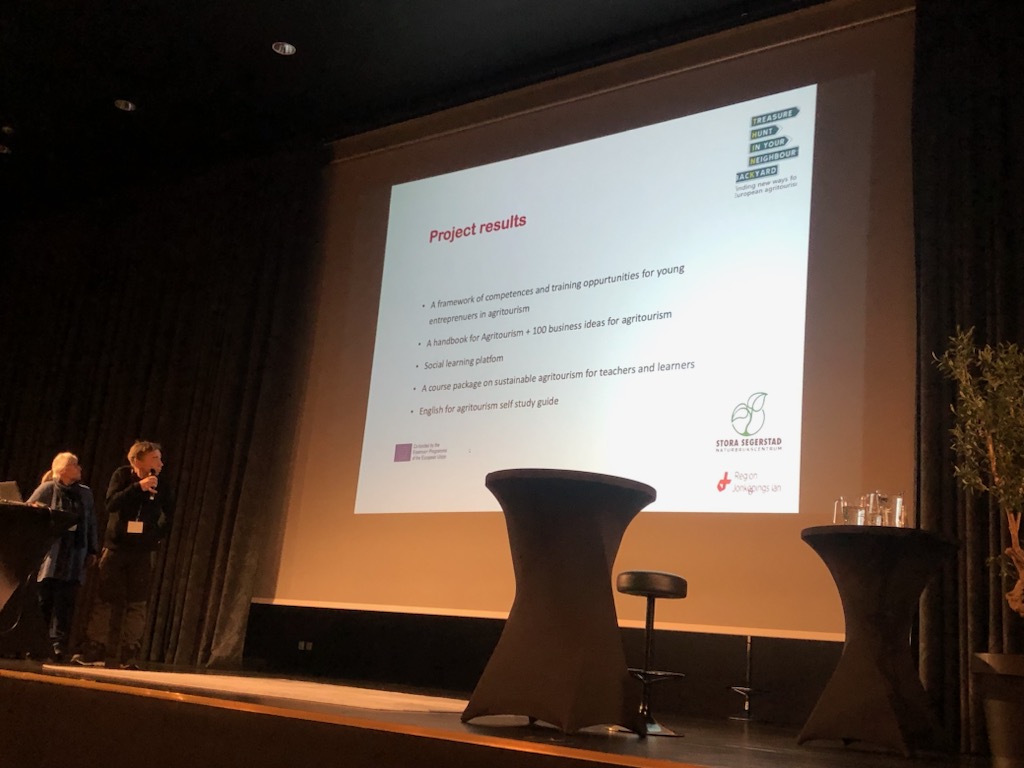 The project website is online! You can find all partner information and Project Results, available for download, as well as newsletters. The next step will be the introduction of an e-learning section to offer modules and tools categorised by key competences: this type of interactive content will also aim to develop self-reflection and other personal development skills related to agritourism entrepreneurship in order to start a new business or upgrade an existing one.
On 16 March 2023, partner Stora Segerstad had the opportunity to present Treasure Hunt at the European conference in Piteå, Sweden, in front of 170 delegates from 20 European countries, generating great interest and a lively feedback and discussion session.
Finally, on 25 and 26 April 2023, the partner Fyg Consultores hosted the fourth Transnational Project Meeting in Valencia, Spain: the consortium partners discussed and finalised the next project development steps such as the preparation of training materials for agripreneurs, the development of the English self-study guide and future learning and training activities (LTTAs).
At the end of the meeting, the partners visited the Albufera Natural Park to experience local agri-business practices.
Our website is constantly being updated, as well as the Facebook page, and we invite you to follow us to stay tuned and updated on upcoming activities!
Website: https://treasurehuntproject.eu/
Facebook:  https://www.facebook.com/TreasureHuntEu